Investing in marijuana stocks has been one of the most popular trades over the past three years. Some pot producers have delivered astonishing returns on speculations that the companies that produce the commodity will hit the jackpot once Canada legalizes cannabis for recreational use.
That's set to happen next week, so the wait is almost over. Canada will become the first industrialized nation where one can buy and consume weed legally. For top marijuana producers, however, the real battle has just begun.
The initial speculative frenzy that pushed marijuana stock prices to the sky is over. Now, their future success will be determined by their ability to scale production and market their products to win the biggest share.
If you are planning to invest in this new industry, our advice is to stick with the largest producers who have the financial muscle and backing of large investors to succeed. We believe that Canopy Growth Corp (NYSE:CGC, TO:WEED) and Aurora Cannabis Inc (OTC:ACBFF, TO:ACB) are two stocks that have what it takes to be long-term winners in this game.
1. Canopy Growth Corp
Canopy Growth Corp is ideally positioned to take advantage of the anticipated demand boom from recreational pot users. What makes Canopy different from other producers is its market size, capacity to ramp up production, the diversification of its product offerings, and its international reach.
Canopy currently operates weed growing facilities with over 2.4 million square feet of space. But the producer has been rapidly expanding its operations and will have the potential to manage more than 5 million square feet of production space by next year.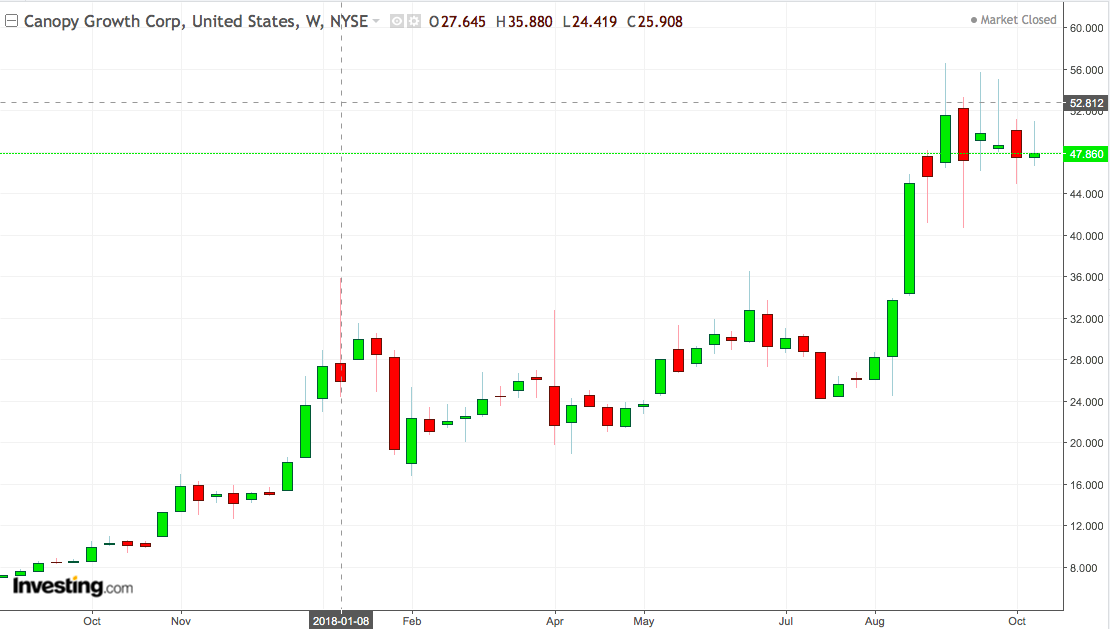 In addition to its scale, what makes Canopy an attractive stock is the backing of one of the largest beer producers, Constellation Brands (NYSE:STZ). In August, Constellation increased its stake in Canopy from 5.5% to a whopping 38%. There is no doubt that bet has worked in Constellation's favor as Canopy is poised to take off.
In an earnings call with analysts last week, Constellation CEO Robert Sands said that the company's aggressive strategy in the weed market has placed it in the best position to capitalize on what is going to be a market worth "hundreds of billions of dollars" over the next ten years. "We expect to reap the benefits of our cannabis investment, which we see as being incremental to our core beer, wine and spirits portfolio," he added.
Canopy is currently trading at $47.860. With the Canadian marijuana market set to take off at any moment, and the strong partnership between Constellation and Canopy, we expect great things are ahead for the stock.
2. Aurora Cannabis
As the marijuana market grows, a great way to play the trade is to diversify your investments by buying shares of companies that are strong in both recreational and medical markets. Therefore, Canada-based Aurora Cannabis is an excellent choice since it's emerging as one of the leading suppliers of medical marijuana.
This year, Aurora Cannabis further solidified its position by acquiring two major competitors, MedReleaf and CanniMed. These deals positioned Aurora as the number two player behind Canopy Growth in the Canadian market.
In addition, Aurora is well-positioned globally since countries from the U.K. to Mexico are in the process of approving use of medical marijuana. The company has also recently announced a $290 million deal to buy ICC Labs, which has a 70% market share in Uruguay, where legal recreational sales already exist. In Europe, Aurora Cannabis already has operations in Germany, Italy, and Denmark.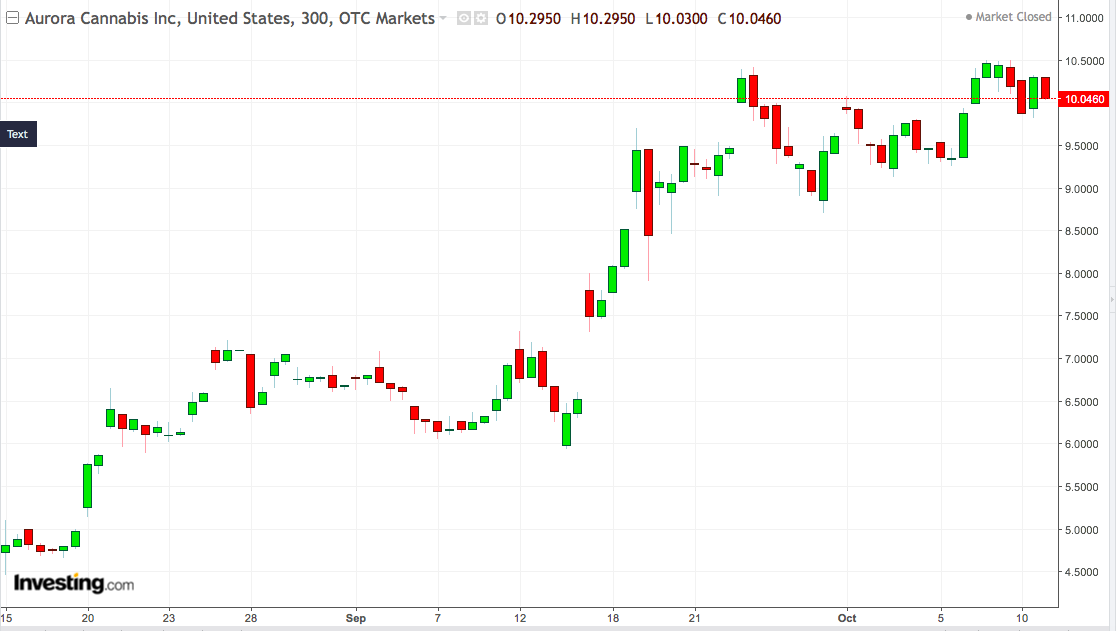 While things are already looking good for Aurora, the stock may be about to break higher. The next big trigger for this producer is a potential partnership with a global brand. Its shares have more than doubled since September 17 when Bloomberg reported that Coca-Cola (NYSE:KO) was in talks with Aurora Cannabis as it explores the possibility of developing drinks infused with CBD – the non-psychoactive ingredient in marijuana that treats pain but doesn't get you high. Aurora is currently trading at $10.0460 and as the possibility of a partnership looms, this may be the time to jump in.
Bottom Line
Between these two stocks we definitely find Aurora attractively priced when compared to Canopy. The company has a much better upside potential if Coco-Cola's interest results in a future deal.
Investing in marijuana stocks is always a risky trade. This is especially true after such a powerful rally in the run-up to Canadian legalization, particularly when these companies have yet to actually produce profit. However, if you're looking to get in on this growing industry, then large producers such as Canopy and Aurora are the safest bets to buy and hold over the medium to long run.

Written By: Investing.com