While virtually every commodity known to man has been plunging over the past 18 months there has been one very notable exception.
Lithium carbonate prices rose 47% in the first quarter of 2016 compared with the average price in 2015. That data is from data provider Benchmark Mineral Intelligence. In 2015, when most other metals and commodities really getting creamed, lithium prices rose 28%.


Source of image: Economist.com
If you haven't looked into lithium you should get yourself up to speed. The good times are likely just getting started for this commodity. This one of the few big long term bullish trends that you can get on and ride for a long time. The tricky part is going to be figuring out exactly how to profit from it.
What Is Lithium, Where Do We Find It?
Lithium is a very unique metal. Not only does it float on water but you could cut through it with an ordinary kitchen knife. It has both an unusually high boiling point and a very low melting point. You can find other elements of a similar weight, but lithium will at least twice as dense as the next best option.
There is a lot of lithium available, but the best of it is mainly located in South America.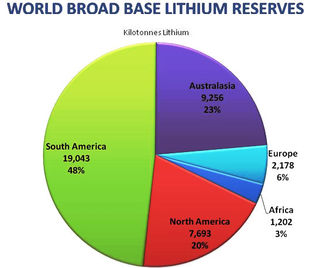 Source of image: www.chem230.com
Bolivia has the most lithium, but Chile and Argentina are the biggest current producers.

The best lithium for production is found in brine, or salt lakes. Mining lithium from rocks can be done, and actually done faster than extracting it from brine. However the economics of evaporating it from brine are far superior.
Which Companies Produce Lithium
Lithium production is a true oligopoly. All of the best South American lithium reserves are already spoken for. Production of lithium today comes mainly from only four companies.
These four companies account for 86% of global lithium production:
- 31% from China's Tianqi Group
- 22% from Chemical & Mining Co. of Chile (SQM)
- 20% from Albemarle Corporation (NYSE:ALB)
- 13% from FMC Corporation (NYSE:FMC)
Another 13% of production comes from a variety of Chinese producers. That means that there is only 1% of production coming from outside these five sources none of whom offer investors a pure play on lithium production.
Why The Future Looks Bright For Lithium

We've been using lithium for a while. Since the 1940s it has been used to treat mood disorders. It is also used in the production of lubricants, heat resistant glass and ceramics.
Since the 1990s it has been a key component in cell phones, laptop computers, tablets and smartphones.
The game changer for lithium will be the electric car and renewable power for the grid.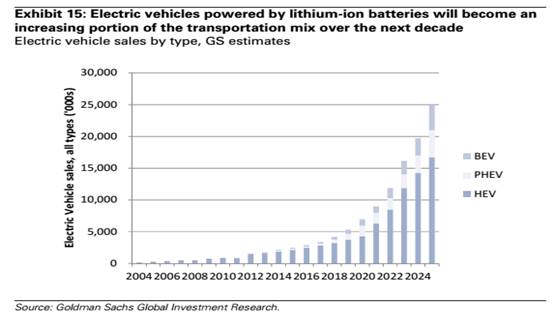 Source of image: www.goldmansachs.com/our-thinking/pages/what-if-i-told-you.html
In December Goldman Sachs released a "What-if" report. In the report Goldman referred to the fact that each Tesla (NASDAQ:TSLA) Model S car battery required as much lithium as 10,000 cell phones. It isn't going to take many Tesla Model S cars being built to make a big difference to lithium demand. Goldman believes that only a 1% increase in the rate of penetration of the electric car would increase total global lithium demand by 50%. Goldman also believes that electric cars are going to increase in popularity as costs come down in the coming years.
According to Goldman, electric car sales will likely get to the point where they represent 22% of all vehicle sales in 2025. Goldman believes that would increase the amount of lithium required each year by 300%.
That is a very large increase in demand in less than 10 years. There is another force that could push demand for lithium even higher. As solar and wind power continue to play a bigger role in power generation the need for energy storage also grows. The storage is unique to these renewable energy sources because the power they provide is intermittent. When it isn't sunny or windy we can't generate as much power.
Traditional power generation sources don't have this issue. It is early days in the development of battery storage for the grid but lithium is currently part of the solution. We will have to see how that plays out in the coming years.

What Are Our Options For Investing In Lithium?
Concluding that demand for lithium is likely to grow isn't a stretch. Finding a way to profit from it is much more difficult. Getting exposure to lithium as an investor is quite different than it is for other commodities.
Lithium is not traded as a commodity. There is no lithium listing on an exchange. The price is set directly between customers and the four major suppliers listed previously. These prices are set on a contract basis which means that there is no liquid lithium spot price market. We can't just go out and buy the commodity. Another complication is that the major producers listed earlier are not pure-plays on lithium. You can own them, but if it is lithium that you want exposure to you have to also accept the rest of their businesses.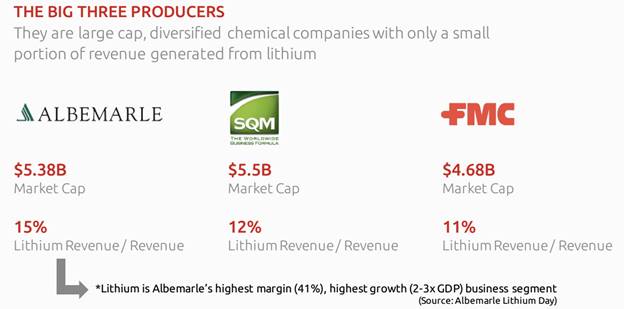 Source: Lithium-X Investor Presentation
This is also what makes the lithium Global X Lithium (NYSE:LIT) rather unattractive. This ETF doesn't offer pure lithium exposure but rather lithium within a bunch of other businesses.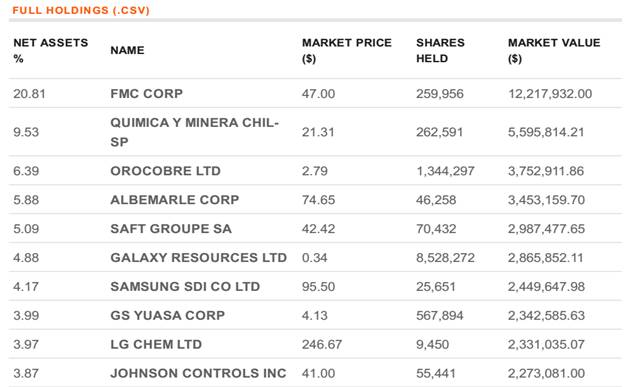 Source: GlobalXFunds.com
Lithium Resource Right Next Door To The Tesla Factory

Even casual followers of the stock market are aware that Tesla (TSLA) is building a battery gigafactory just outside of Reno, Nevada. The plan is to build 500,000 new cars per year by 2020.
The location of this gigafactory near Reno Nevada was chosen for a reason. It is within three and a half hours of the only producing lithium operation in the United States.
That production belongs to Albemarle. However there is a belief, both by Tesla and others that Nevada has a lot more lithium waiting to be discovered. As investors in the commodity sector that perked our interest. The idea of owning a young producer that has an asset located right next to the biggest consumer on the planet is very appealing. That proximity to demand would provide enormous transportation cost advantages for a producer. Clayton Valley is the area of Nevada where the lithium is and there are several companies with significant landholdings surrounding the key Albermarle production.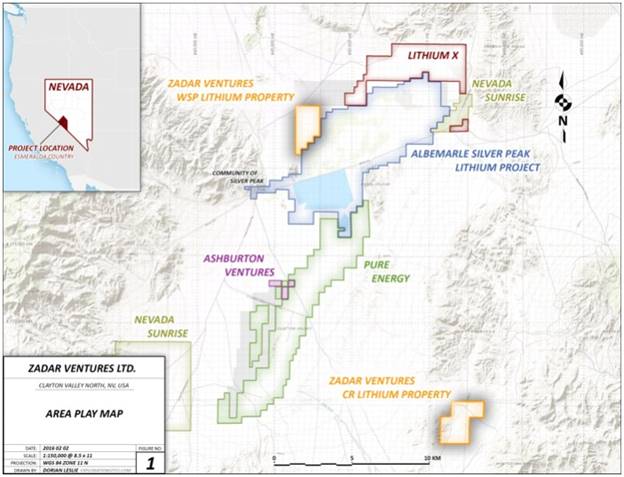 A summary of each company that appears in this map that surrounds Albermarle is below. Please note that we are not recommending any of these stocks, this is an information gathering exercise so that we know who has the land in this key area.
Pure Energy Minerals Ltd (V:PE)
Project Highlights
- 9,324 Acre Lithium Brine Project
- 816,000 metric tonnes Lithium Carbonate Equivalent (LCE) Inferred Resource NI 43-101 July 2015)
- Next to the only producing lithium mine in North America
- Significant existing infrastructure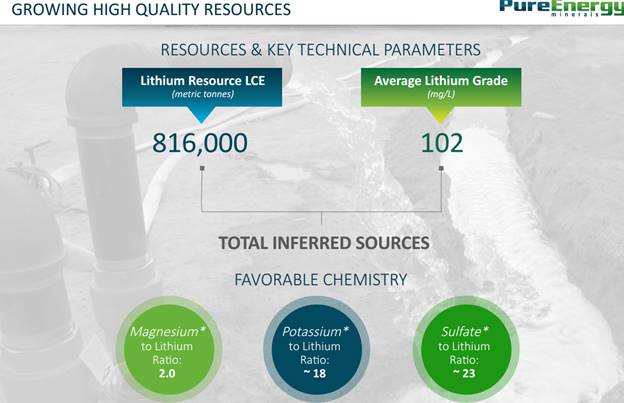 Source: Pure Energy Services
Last year, Pure Energy Minerals and Tesla announced an early stage supply agreement whereby Tesla would buy an undisclosed amount of lithium from the company within a certain time frame. Tesla would pay a "predetermined price that is below current market rates," according to the release at the time.
Zadar Ventures Ltd (V:ZAD)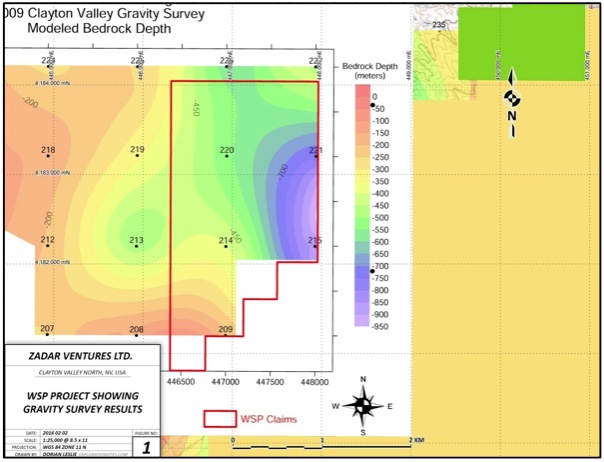 Zadar acquired two claim blocks totaling approximately 755 hectares from regional veterans GeoXplor and kept GeoXplor on as operators for the project. This is the same group that operates Pure Energy's claims in the area as well. Given GeoXplor's time and experience in the area, Zadar believes that they are the regional experts best left in charge as the play develops. Zadar also announced the addition of Jason Dussault, the original CEO and founder of Pure Energy to its advisory board. The claim blocks acquired are WSP and CR and they cover 425 hectares, and 330 hectares respectively. The WSP is situated directly adjacent to the producing Rockwood Lithium Mine and Processing Plant complex in North Clayton Valley. The parcel comes with historic data, including a gravity low anomaly (interpreted as a basinal low) capable of hosting high lithium concentration brines. The brine is there, it's just a matter of how high are the concentrations going to be.
Lithium X Energy Corp (V:LIX)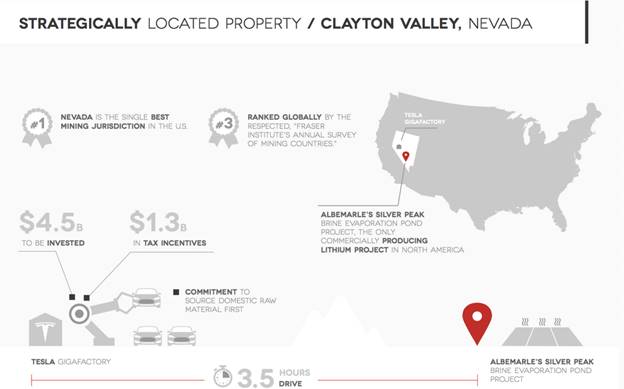 Lithium-X also the largest land package in Clayton Valley. It covers over 15,040 acres between its Clayton Valley North project and Clayton Valley South extension. Both land packages are contiguous to the only producing lithium operation in North America – Silver Peak, owned and operated by Albemarle, the world's largest lithium producers. Lithium-X also has something cooking in South America. Its Sal de los Angeles project is situated in the prolific "Lithium Triangle" in Salta Province, Argentina. The project is comprised on 8,156 hectares covering the nucleus of Salar de Diablillos with approximately C$19 million having been invested in the property by previous operators, including $16.2 million in work completed at Sal de los Angeles between 2010 to 2015. It contains high grade brine with a historic NI 43-101 resource of 2.8 million tonnes LCE and historic positive project economics.

Nevada Sunrise Gold Corp (V:NEV)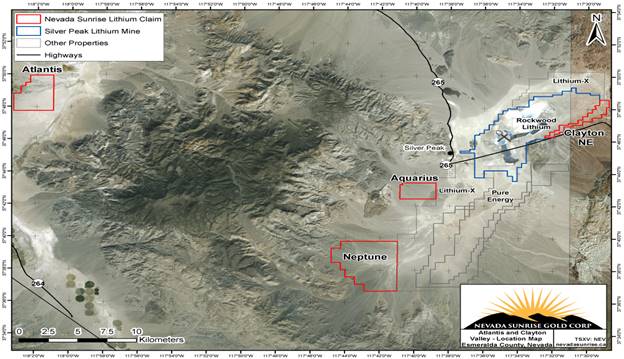 Nevada Sunrise's Neptune lithium project is located in the southwest corner of the Clayton Valley flanked by the Silver Peak Mountains to the west, the Palmetto Mountains to the south, and the Clayton Ridge and Montezuma Mountains to the east. The Clayton Valley playa is characterized as an immature clastic salar, or salt flat.
Other than the 2011 geophysical surveys carried out by a previous operator, historical exploration for lithium brines at Neptune is sparse. A large scale ground gravity survey by the United States Geological Service ("USGS") in 1980 outlined two gravity lows in the south end of the Clayton Valley – the "South Central Low" underlies land controlled by Pure Energy, and the "Southwest Low" underlies Neptune.
On January 4, 2016, Nevada Sunrise announced it has received a drill permit from the U.S. Bureau of Land Management (the "BLM") for Neptune. The BLM has approved 10 exploration drill hole locations at Neptune, and Nevada Sunrise plans to drill 3 vertical holes as an initial phase, each up to 380 to 480 metres deep into the interpreted sub-basin, with follow-up drilling if warranted. There are no known drill tests for lithium brines within the targeted Neptune sub-basin. The Neptune drill program is scheduled to begin in March 2016.
Risks And Oil
The biggest risk for lithium demand is likely low oil prices. If gas prices stay where they are it is going to throw a big delay into the acceptance of electric cars.
We do not believe that is going to be an issue. While the current headlines are grim for oil the underlying fundamentals are improving. Supply destruction is taking place everywhere across the globe and OPEC isn't going to be able to repeat its 2015 production ramp up. The Oil Ministry in Iraq recently indicated that production from Iraq will decrease by 200,000 barrels per day in 2016 which is a big swing from the growth seen this year.
Another threat to lithium is the potential for a different and superior technology to emerge which thereby limits the lithium required in electric cars. That seems unlikely but is something to keep an eye on.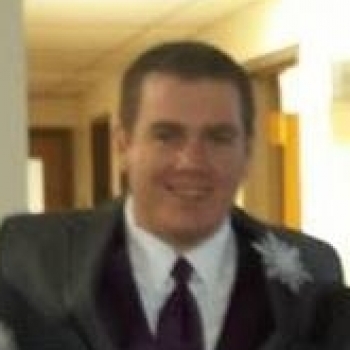 Written By: Christopher Lourenco