by Clement Thibault
After months of waiting and endless speculation, Apple's (NASDAQ:AAPL) annual, September event, at which the company traditionally unveils new products and successive iterations of existing devices has answered many consumer—and investor—questions about the 10th anniversary iPhone and where the once iconic smartphone may be headed.
In the newly built Steve Jobs Theater, inside Apple Park, the company's Cupertino, CA-based campus, CEO Tim Cook and a few of his Senior Vice Presidents revealed what they consider will be the future of Apple. From the smartphone perspective, many believe yesterday's announcement may have been its biggest reveal in years. We're not so sure.
Apple TV, Apple Watch
First the Apple TV 4K and the newest version of the Apple watch were revealed.
In Apple's quarterly reports, both devices appear under the same category – "Other Products". Together, they represent $9.6 billion dollars of revenue for this year's first nine months, or 5.5% of Apple's total revenue.
This is not to say they're unimportant since they are growing at a 10% pace this year. Rather, this indicates that consumers have not yet entirely embraced the two products.
Apple TV received a resolution upgrade and can now play content up to 4K. This isn't necessarily innovation, but it was important for Apple TV not to lag behind the competition. It won't drive immediate upgrades either, but it's an important step for the long-term, since more and more households own 4K TVs.
Apple's newest iteration of the watch comes with cellular capabilities, meaning that while the wearer is on a run, or when running quick errands, the watch is all you need. This is a big step up in terms of wearable technology for Apple, and should help convince consumers of the usability and usefulness of the watch.
We expect Apple watch owners to like this upgrade and new users to be attracted by the cellular capabilities.
However, these products are a mere drop in the ocean compared to what most Apple fans, as well as regular consumers, wanted to hear about – the newest iPhone, or rather – iPhones. In an unprecedented move for Apple the company introduced three new phones rather than its customary two.
iPhone 8, iPhone 8Plus, iPhone X
After watching the event, it's clear to us that Apple did not originally plan to release the iPhone X yesterday. We believe Apple would have liked to be able to continue the same cycle it usually follows, just rolling the iPhone 8 and 8S. However, the buzz surrounding the iPhone's tenth anniversary and ongoing rumors revealing elements of what has turned out to be the iPhone X forced its hand.
There's some evidence of that.
First, the iPhone X has not yet been approved by the FCC. Every new phone has to pass FCC requirements before it can be released to the public. Approval usually takes a few weeks, but it's a serious matter. Apple itself mentioned this in yesterday's press release:
"This device is not, and may not be, offered for sale or lease, or sold or leased, until authorization is obtained."
Any glitches during the approval process could push back the release date. Apple announcing a release date, they said the phone will start shipping on November 3, shows the company is confident, but signals too that they were ill prepared for the unveiling.
Similarly, the pre-order and release dates are a bit further away from the unveiling than is customary compared to previous iPhone rollouts. While the world was given its first glimpse of the iPhone X yesterday, pre-orders will only begin in a month and a half, on October 27, and as mentioned above, shipping will start a week later, on November 3.
Finally, available supply seems suspect, another telltale sign of rush-to-market. The iPhone X is expected to be released in very limited supply, at least at first, indicating Apple hasn't had the time to entirely prepare for the rollout.
So, instead of having what we expected—a truly revolutionary smartphone—what we got yesterday were two regular upgrades and something more akin to a concept phone than an actual ready for market product. After all the buzz, that's disappointing.
It looks to us like Apple has lost its innovative way. We have suspect this over the past two years, but yesterday's launch event confirmed it. Apple really wasn't planning to wow us with the future of smartphones until marketplace expectations forced it to, yet even then we got a half-baked effort.
Years ago, when Apple wanted to innovate, it gambled on the iPhone, and that payed off handsomely. Currently, Apple was neither ready nor planning to gamble on the iPhone X to revolutionize the market, and we shouldn't either.
So What Now?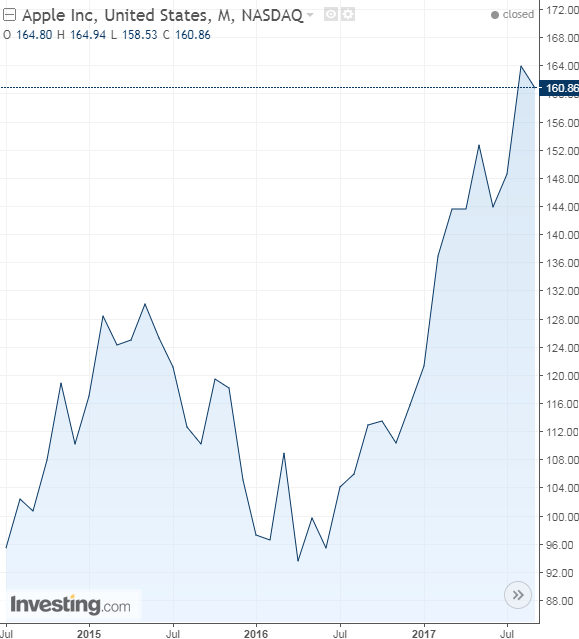 Apple has always been an interesting stock to own. At times it's been vastly over- or undervalued and the price swings are rather impressive.
In mid-2015, the stock was overvalued at $130. By mid-2016 it was then greatly undervalued, selling at $90. It then began a rally which has brought the price per share to an all-time high of $160, where it sits today.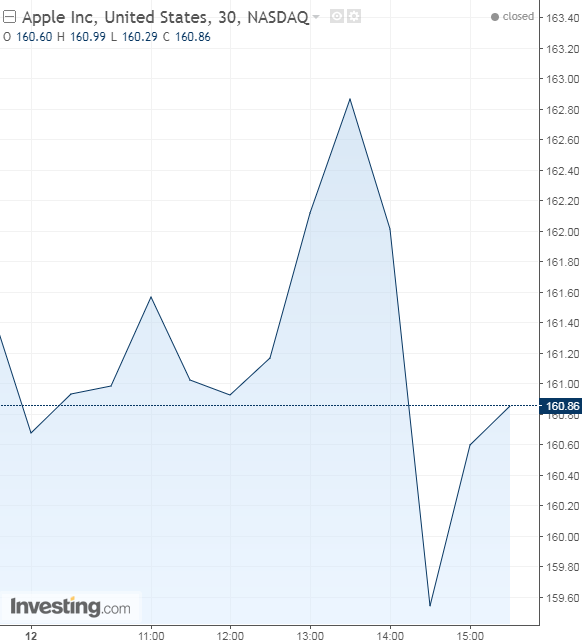 The market didn't especially like yesterday's announcement. The stock dropped about 2% intraday on the news, before closing just -0.4% on the day.
We don't believe yesterday's event justifies an all-time high valuation. Certainly, many will upgrade from the iPhone 6 and 6S, although the iPhone 7 sold well, indicating that we may not witness the super-cycle many expected.
More important, we expected a phone that would be a must-have, one that would sway consumers who were sitting on the fence about an upgrade and about an Apple device in particular. We didn't get that.
As investors, we'll wait for the stock to return to a more undervalued situation. Perhaps then we'll consider a new position.

Written By: Investing.com