Hurricane Florence may not just bring a torrent of rain and flooding to the Carolinas. It could also ruin efforts by natural gas bulls to keep the market above the key $2.80 support as demand for late summer air-conditioning wanes.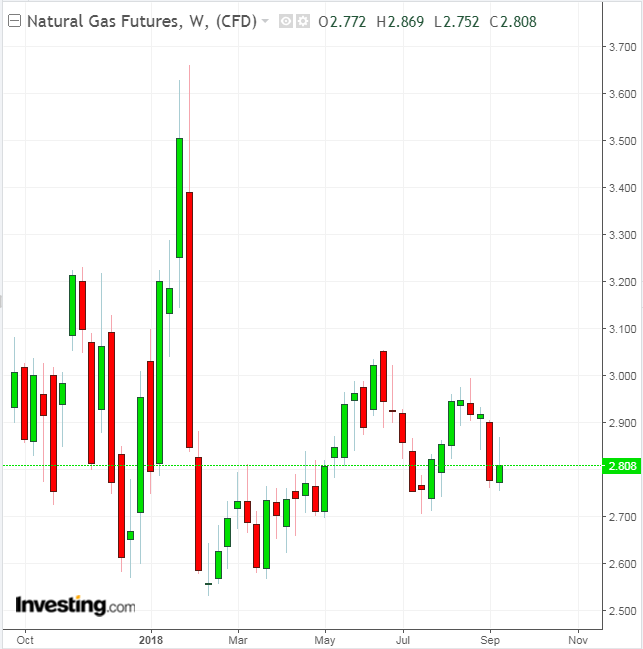 From agricultural markets to energy, investors in commodities have nervously eyed every development in the current Atlantic hurricane season's most menacing storm. Florence has been downgraded to a Category 2 Hurricane but remains a huge, life-threatening storm, almost 400 miles in diameter and extending about 80 miles from its center.
The hurricane's miss of oil production and refining facilities in the US Gulf Coast of Mexico means no immediate storm premium for crude oil or gasoline.
Rains Could Offset Late Summer Heat
On the natural gas front, rains brought by the storm could offset late summer heat in areas it passes through, diminishing the need for air-conditioning and depriving utilities of some of the demand they have enjoyed lately for their power. "The more likely impacts of Florence on natural gas will be lost power generation in the immediately affected area and heavy rainfall over a wider region that limits daytime temperatures and takes a bite out of demand into next week," Dan Myers, natural gas analyst for Gelber & Associates in Houston, said in a report on Thursday.
Going forward, sentiment could turn bearish without fresh drivers for power demand.
Bearish Recommendation Ahead
"We may be looking to recommend some kind of short position in this market in the weeks or months ahead," said Shawn Hackett of Hackett Financial Advisors in Boca Raton, Florida, citing mild weather as the key factor. On the New York Mercantile Exchange on Thursday, natural gas for October delivery settled at $2.817 per million metric British thermal units (mmBtu), down by a modest 0.4 percent.
Investing.com's technical charts for natural gas indicate sharper losses in coming sessions. The daily technical outlook calls for a "Strong Sell," with Fibonacci patterns signaling the strongest Level 3 support at $2.788.
Support At $2.80 May Disappear
If the market ratchets down to that level, it will basically crack the $2.80 support, which was prevalent from late-May to the end of June and again from early-to-late August. Those were periods when demand for air-conditioning spiked from sweltering heat. They were also times when utilities injected lower-than-usual volumes of gas into storage for summer heating, after meeting immediate power generation needs.
In the latest week to September 7, storage of natural gas rose by 69 billion cubic feet (bcf), versus analysts' forecasts for an injection of 68 bcf. In the previous week, the build was 63 bcf. While weekly stock injections were still below the five-year average of 74 bcf, analysts noted that the market was getting into the "shoulder season" between fall and winter, when neither air conditioning nor heating may be required.
Triple-Digit Stock Injections Likely
"When demand eases in the coming weeks, more than one triple-digit injection is not out of the question given recent production levels," Myers said. Natural gas output is expected to reach an all-time high of 81.34 bcf per day (bcfd) in 2018 versus 73.57 bcfd in 2017, the US Energy Information Administration said in July. He added:
"The market will be forced to factor this (record production) in, along with the more bearish effects of Florence, that may send a blow to prices in the next few days."
Some say prices may not crumble as easily as thought, especially if weather forecasts change to show a frigid winter ahead. The alternative might lead to "a wide, choppy trading range for the foreseeable future – or until there is a reason to move the market strongly in either direction," said Dominick Chirichella, analyst at the DTN-owned Energy Management Institute in New York.

Written By: Investing.com