Ethereum had a pretty rough year. Since its peak on the 13th of January, Ethereum declined more than 94 percent during 2018. However, since its low at $80, Ethereum managed to double in price in the last two weeks. With currently sitting at $149, we should take both technical and fundamental factors into account to understand where Ethereum is heading to.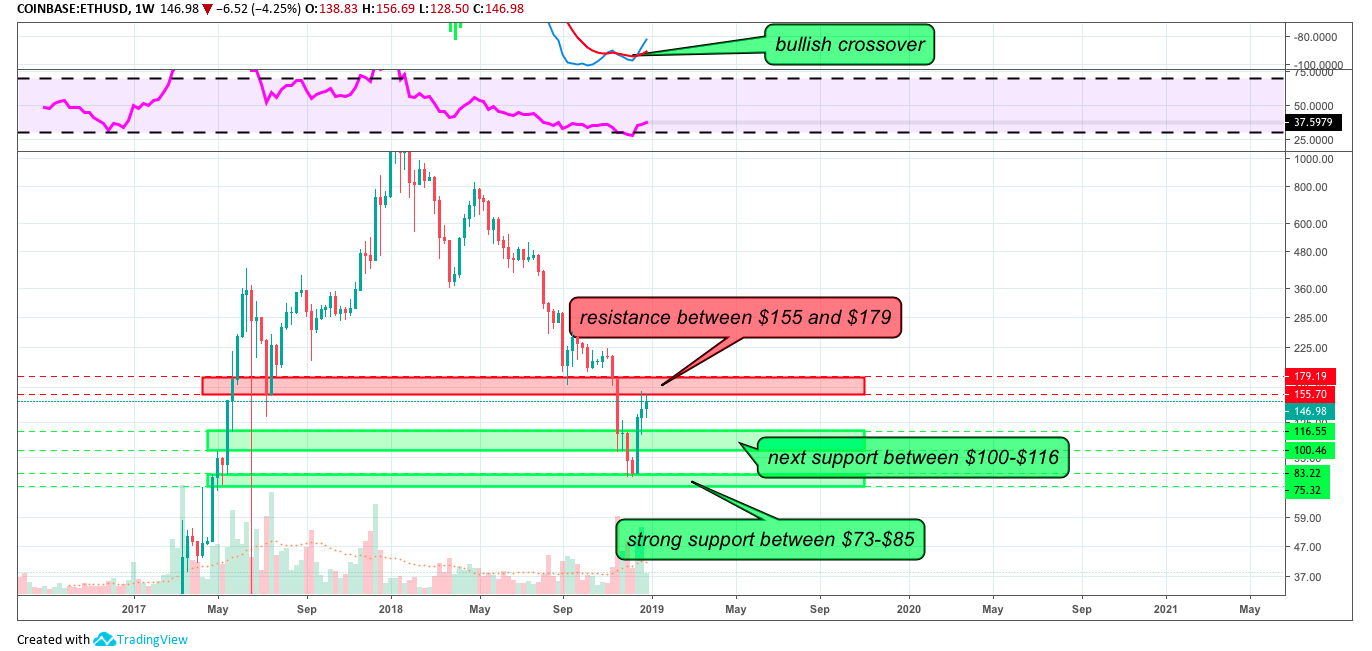 Ethereum bounced recently from the support at $80 and is currently facing strong resistance at $155-$179. If Ethereum fails to break this resistance, it finds its next minor support between $100 and $116. However, with the MACD performing a bullish crossover and the RSI being as low as 37, there is still plenty of room towards the upside.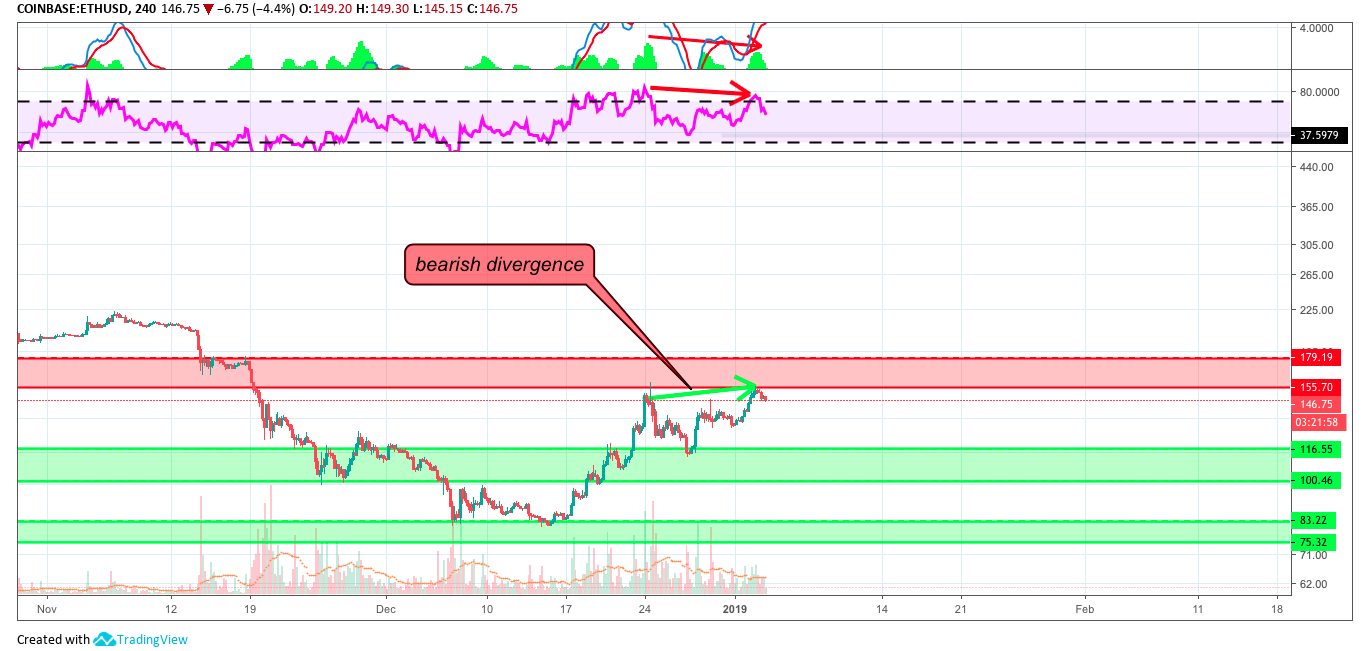 Although the weekly chart indicates bullish momentum, the short-term prospects seem bearish. With the histogram of the MACD and the RSI performing lower highs while the price is climbing higher, the bearish divergence indicates a price drop is overdue in the not-too-distant future. However, bearish divergences result often in a series of higher highs before the price decline takes place. Having said that, it is possible that Ethereum continues its increase until it faces rejection at the higher region of the resistance at around $170-$180.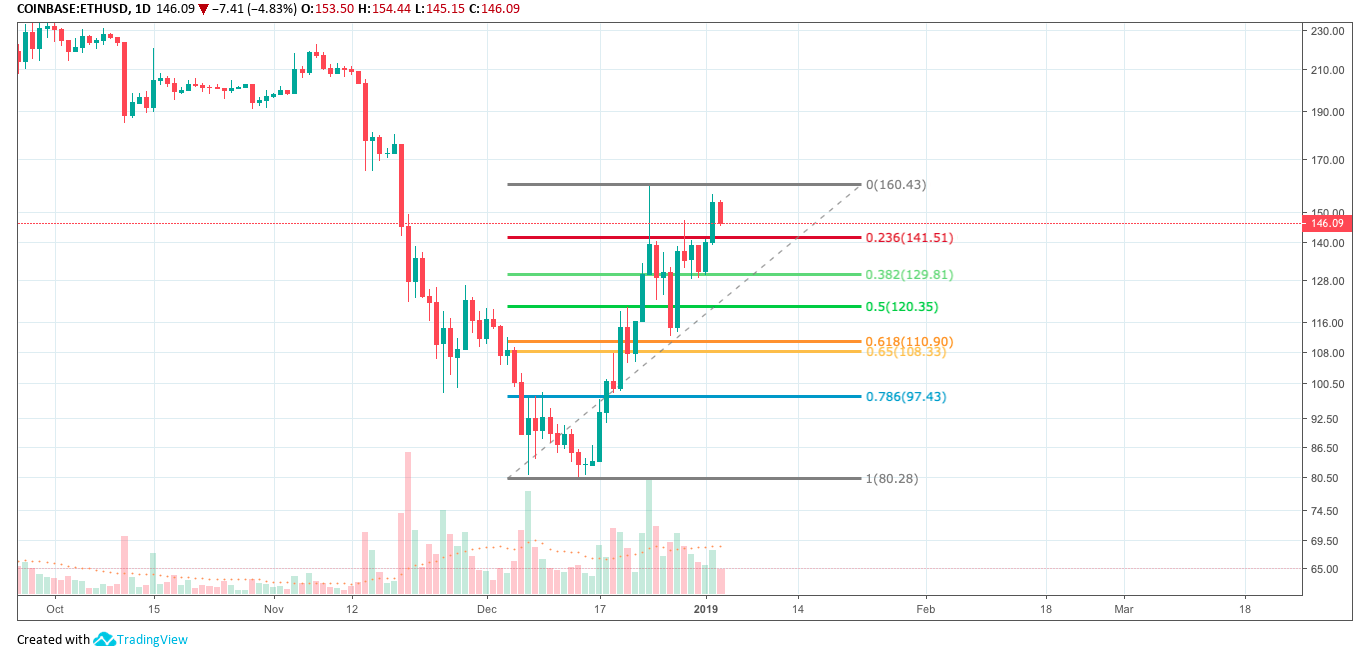 Additionally, we recently bounced off the 0.382 fib level at $129, which indicates a continuation of the uptrend. If that's the case, the current correction could end either at $141 or at $129 where the fib levels act as strong support. If both levels are broken, the last chance of an intact uptrend would be a bounce off the golden pocket zone, at around $109. If this level is broken too, the bear trend for Ethereum remains intact and the trend change failed to establish.
In the light of the fundamentals, Ethereum could see a further upward movement. With three major hard forks in the near future, Ethereum investors could get FOMO due to the airdrop.
The first one is named Classic Vision and takes place on the 11th Jan 2019. All Ethereum holders will receive 3 ETCV for each ETH in their wallets.
The second is Ethereum Nowa on the 12th Jan 2019 where Each ETH holder receives ETN in the ratio of 1:1 for free.
The best comes last, with the Constantinople Fork coming not later than on the 16th Jan 2019. The Constantinople Mainnet is a huge software update which makes Ethereums smart contracts both more cost-efficient and more effective. Furthermore, it enables off-chain solutions and reduces the block reward, which delays the occurrence of the difficulty bombs. The difficulty bomb was introduced to enable a smooth switch from proof of work to proof of stake. One of the biggest crypto exchanges, Binance, announced to support this fork.
Written By: Konstantin Kaiser