Copper Shows Strength
Dragonfly Capital | Oct 12, 2017 08:16AM ET
Copper has moved up quite a bit since making a bottom in early 2016. Up over 45% since then, many will say, 'this is old news and you missed the move.' I think they're right. And they're also wrong. The move shows a year-long consolidation ending with a sharp rise following the election last year. There was a drift up after that for 6 months, but not much progress as it started to approach its 200-week SMA. More sideways price action into July this year.
In July, the metal moved up again over the 200-week SMA. It had not closed above that since February 2013, nearly 4 and a half years earlier. Copper prices then continued higher to a top at the beginning of September, before pulling back. That minor pullback found support at the end of September and it has been rising since. If you bought at the bottom and remained in for the entire ride higher, congratulations.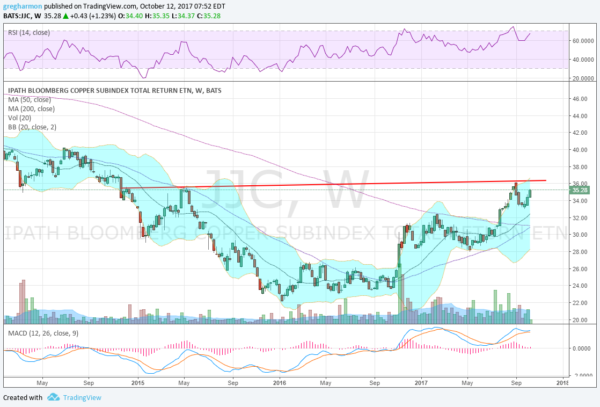 If you have missed the move, you're in luck. First, the reversal higher in September gives a solid price-risk level to trade against. Second, the opportunity looks good. A Measured Move from that low looks to target a move to 41.20 in the Copper ETF (NYSE:JJC). But there's also an inverse Head-and-Shoulders pattern forming. A break of the neckline shown would give a price objective to at least 50.50. That's nearly another 45% move. There is still time for money to be made in copper. The reversal from the long-term bottom is just getting started.

Written By: Dragonfly Capital