Another Visit To The Gold Stall
Dragonfly Capital | May 19, 2017 10:34AM ET
Gold has been a fickle metal to find a price for over the last 5 months. Ever since the minor stall near 1220 in January, it has bounced around a lot. First down to its 20-day SMA then a move higher, stalling in the 1245 to 1260 zone. Another drop down to 1200 found support at the round number and reversed. It stalled again in the 1245 to 1260 zone. Then a move higher failed and it fell back again to a higher low.
Now gold has reversed off of that low and is back at the 1245 to 1260 stall zone. It has spent two days in this range so far and is trading within the range as I write Friday morning. Will it stall again? What is with this range? Is it magic? Looking at the 1-year chart of gold prices suggests there is some magic about this range. It also stopped the price of gold in October and June, and despite the strong shift lower in November, notice the single-day dip into the range and bounce before dropping the next day.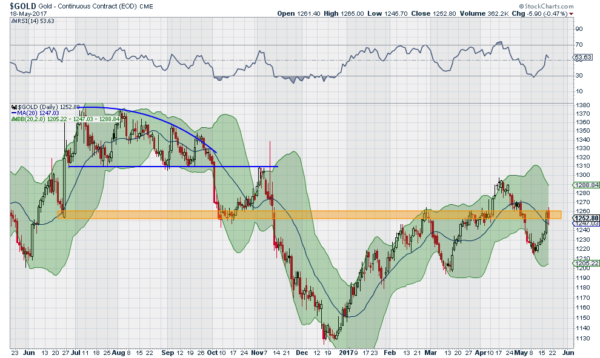 Six times the price of gold has hit this range and stalled or reversed. Which will it be this time, a reversal or continuation? Momentum has been trending higher suggesting continuation. And the price is holding over the 20-day SMA. There is room within the squeezing Bollinger Bands® to about 1290 above. these suggest a break will be to the upside. That may or may not happen. But what is more certain is that it is better to what for a break of this 1245 to 1260 stall zone to place your bet.

Written By: Dragonfly Capital