by Clement Thibault
This past Friday, June 16th, Amazon (NASDAQ:AMZN) announced it had agreed to buy Whole Foods Market (NASDAQ:WFM) in a in $13 billion deal.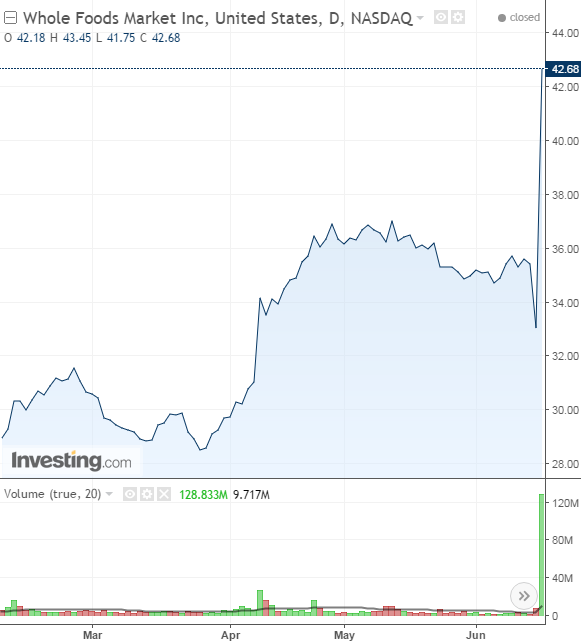 Following the news, Whole Foods' share price jumped 29% to $42.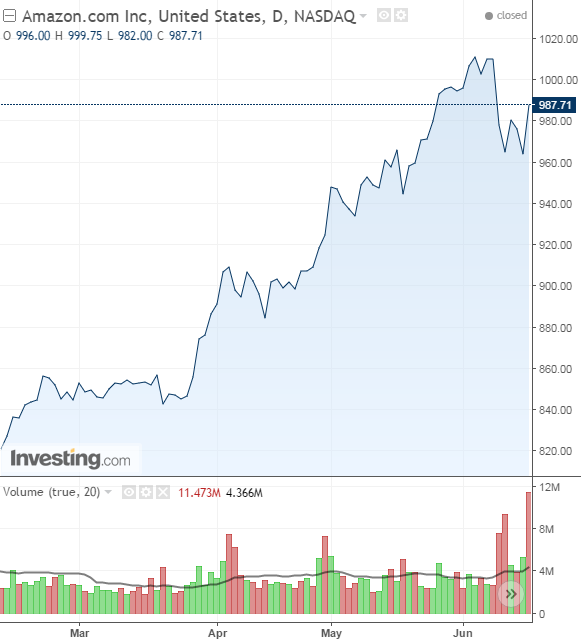 At the same time, Amazon's stock jumped 2.4% to $987.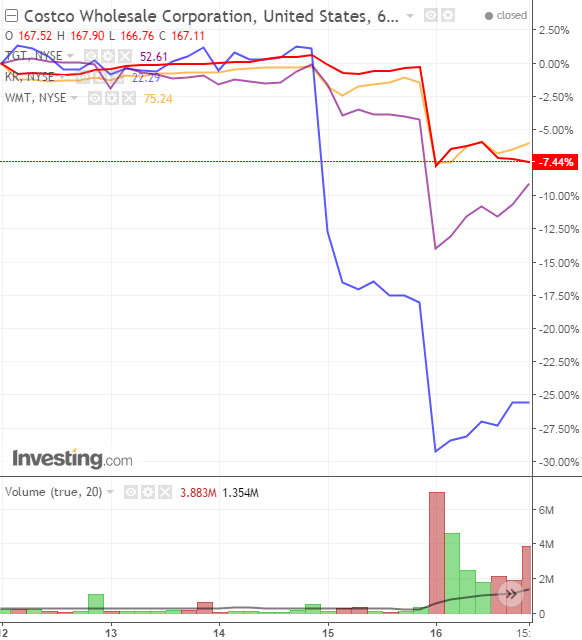 Other major retailers in the grocery space were sold off on the news. Many were treated rather harshly during Friday's trading: Kroger (NYSE:KR) plunged over 9%, Costco (NASDAQ:COST) dropped over 7%, Target slipped over 5%, and Walmart (NYSE:WMT) slid down 4.6%.
So what does the Whole Foods deal mean for Amazon and what might the ramifications be for the industry in general.
Surprised by the move? You shouldn't be
US Groceries Store Sales over the past 12 months have amounted to $630 billion dollars, of which Walmart is estimated to control about 40%, or $260 billion. It's a big industry and one largely unchanged for the past decade. It's therefore no surprise that Amazon sees an opportunity for disruption within this retail subsector.
Amazon has been eyeing the groceries arena for a while now. It's put effort into developing check out automation technology and has experimented with grocery deliveries. Evidence of this can be found in two Youtube videos published by Amazon; AmazonGo shows off the e-tailer's check out technology, and AmazonFresh Pickup, visually describes how groceries can be delivered to your trunk.
Whole Foods not an industry leader
After the acquisition news was made public, an Amazon spokesperson claimed there are no plans to implement automated systems at any of the newly acquired Whole Foods locations. We find that hard to believe.
To begin with, Amazon hasn't purchased an industry leader with a healthy, growing business. In the past 5 quarters, top line growth for Whole Foods hasn't gone beyond 2%. Its Operating Margins have been on the decline since 2013—shrinking by 35% since then—from 6.84% to 4.45%. Net margins haven't fared any better, falling from 4.64% to 2.65% over the same time period.
Whole Foods has about 464 stores (442 in the US. 13 in Canada and 9 in the UK), compared to Walmart's 4700 in the US and over 11K stores worldwide. Whole Foods is more of a niche player in the grocery industry, catering to limited demographics looking for high-end, artisanal, organic and natural foods—mainly upper-middle class health conscious families and a fair amount of millennials.
Walmart, with its lower prices and generally mainstream inventory, is at the lower end of the spectrum, appealing to lower income, budget conscious families. The competition between Walmart and Whole Foods is not direct. Amazon would have to make dramatic changes in Whole Foods pricing in order to compete with Walmart. For now though, Amazon is keeping the management and branding in place.
What does Amazon want from Whole Foods?
That is indeed the 13 billion dollar question. Obviously, Amazon wants a piece of the $630 billion grocery pie. And Whole Foods provides a medium-sized entry point. The stores are in place, the supply chain is established, the business is profitable, and management knowledge regarding how to run a physical retail location is key for Amazon. Establishing a similar network without the physical retail expertise would have been a nightmare for the e-commerce giant.
Of particular note, this could also be Amazon admitting that grocery shopping exclusively online is probably not the future, and that for all its retail expertise, it still has to dip its toes into the murky brick-and-mortar waters if it wishes to capture a meaningful market share of this significant niche.
Conclusion
The way we see it, the Whole Foods acquisition is a large-scale, perhaps somewhat expensive experiment for Amazon. They have plans for the future of grocery shopping, and they believe they can disrupt the industry by implementing technology in brick-and-mortar stores. Whole Foods' 460 stores at a cost of $13 billion was the correct scale at the right price. It allows Amazon to test the grocery market waters.
Based on our above conclusion, the immediate impact on other retailers will be minimal. The deal is expected to close during the second half of the year, after which nothing is expected to change, at least not immediately. We believe losses suffered by retailers' shares on Friday were an absolute overreaction to an experimental purchase in a very competitive and crowded industry.
Amazon's acquisition reminds us of Alphabet's (NASDAQ:GOOGL) "Other Bets" segment more than anything else. There's a large potential payoff in disrupting an industry, but there's also still a very long way to go to get there.

Written By: Investing.com